Folk dance music with improvisations
Trommelvalsen (Roller Waltz)
Niels Mejlhede Jensen, Bøgeløvsvej 4, 2830 Virum, Denmark. e-mail (web master)
Old tune used for folk dancing in Denmark 1999 arranged with improvisations
Link to index to other dances.
CONTENTS: (remember: you can use Ctrl Home in usual browsers to get to the top of this page, to the links here)
Dance of the week 1999 January 18: Trommelvalsen (Roller Waltz), dance of 3 couples
Dance description, will open on a new page, in a new window, so that this window with music is kept behind
Music description (you stay on this page)
Performing proposals (new page, in a new window, with this window behind)
Music scores for C, A , Bb, Eb, F, and bass instruments (to text on this page)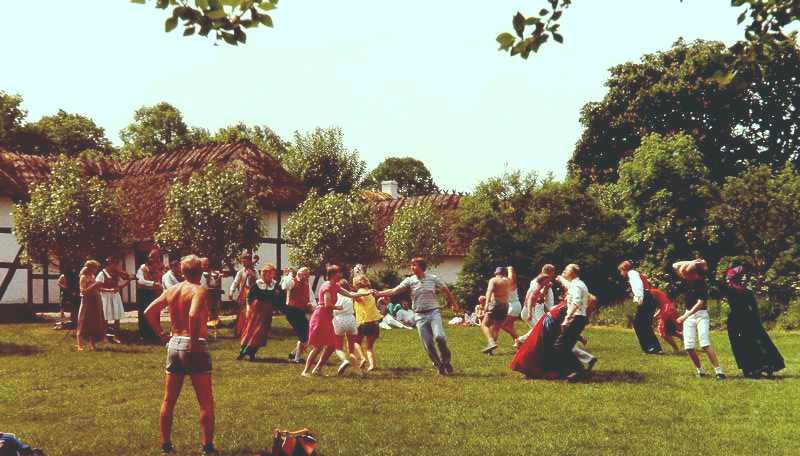 Photo of this week: Trommelvalsen (= the dance of this week) is danced at a get together on a lawn in the museum park in our neighbourhood. The set of 3 couples in the foreground to the right has one couple ducking through the gateway couple and another couple turning at the end to the right. The dancers of this photo have danced the dance more than once before. But look at the other sets: they are all in slightly different positions in this fast dance. But they all have a lot of fun, and that is what counts.

A little story:
I plan to place a dance from my music book *117* here on this home page, maybe once a week. This is the 3' dance.

A fiddler wanted so badly to come and play in our group. Fiddler?? Well, sure enough, he had bought a violin and a learning book from Sweden. But even though we say that everybody is welcome in our group he felt that some practice in advance might do well. He soon found out that at home they did not have the sense for his music. (I understand them. It is a strain for half a year to have a child learning to play the violin. But to have an adult of 50 ...). He then drove out to a former gravel pit and sat there in the loneliness every evening and played the whole summer for half a year. But then one night people claiming to be from some environmental society came and told him to stop, because natural life of any value had fled the area to breed elsewhere. He then moved to some remote gloomy refuse dump in Copenhagen Harbour area, where he met a drunk gypsy sitting by his fire. They then played together every night in the headlights from the car, until the gypsy had emptied his bottle. Every long night, because our fiddler had now quitted his job for the sake of music. After a year the gypsy died of alcohol. But now our fiddler was capable enough to join our band, and he was a keen member for several years. (Always neatly dressed, who could believe this story about him? He did not tell it himself to me, but confirmed it when I first wrote about it). Our fiddler claimed that he would not in his lifetime ever learn to play Trommelvalsen (= the dance of this week). I encouraged him and said that even when 60 years old he could train for new heights. But he was right, because suddenly one noon he died peacefully on his couch.


Dance of the week, 1999, January 18:
Trommelvalsen.
(English: "Roller Waltz").
Dance of 3 couples.
Music and dance from Northern Jutland.
The dance is in waltz tempo (traditional waltz, not Vienna waltz).

The melody can be heard in midi on computer piano in my tempo (if you have a sound card). (The melody will loop here until you stop it. In the table below it will play once). (I have not played the tunes here with the "drive" I want for dance music).

Music description:
The music notes are usually written as a score of 12 staves on one A3 page = two A4 pages side by side (= an open A4 book).
Place the two note sheets side by side. Then staff 1 (= melody) on the left page continues as staff 1 on the right page. But here I have added 2 extra staves.
The 14 staves:

1
melody
the traditional good dancing melody, polished through generations of use on the fiddle
.
chord
text
Midi metronome = 160.
simple (folk music) chords, natural for playing the accordion;
these chords are used to make the other parts or voices in triad harmony;
there should be no tension from dissonance anywhere including in octave
2
A
(Above), parallel part nearest above in third or little more above
3
B
(Below), parallel part nearest below in third or little more below
4
ns
simple n part (see 9); often with the tonic feeling and often with the basic dance rhythm ("motor part")
5
C1
C parts are made from A and B parts, and so they are two parts to the melody
6
C2
C2 is less simple than C1
7
mod1 =
contra part
voice up and down (mostly) contra to the melody; it is also made from A and B
8
mod2
another contra part
9
n1
less constricted part, and tones from the melody are freely included
10
n2
another n part
11
A'
simplified A
12
B'
simplified B
13
mel'
simplified melody
14
blank
.
blank staff for making your own part according to the principles here
(The midi music is not repeated, except for 1' and 2' voltas).
Use also octave, up and down.
I have 14 staves here in stead of normally 12, just to show an alternative mod2 and n2 part.
Where wanted, notes can be changed according to the principles (use a colour pencil), e.g. to improve the B part with some notes from A.
The music is aimed at dancing, so part of the orchestra can be the underlying "motor" when another instrument group is playing its "solo" part (improvisation) as one of the many repetitions.
The double bass may play its usual notes, because of its low pitch.
It is better to choose a more simple part and play it well.
Because the fast melody for beginners can be of a challenge to play with good dancing rhythm I have included a simplified melody that can be played instead.
The dancers would like the melody to be played slower the first times of dancing.
I have made the ns part so that it promotes running steps in bar 1-8 and promotes waltz in bar 9-17, and so the underlying motor should be played while other instrument groups have solo parts.
But in the traditional notes used for fiddlers here in Denmark the first part of Trommelvalsen is all legato and the second part all staccato, which seems to be opposite of what would be obvious for dancing. But this is just an extra challenge to the skilled fiddler: to play good waltz with staccato notes. And a special "rolling drive" in that legato part is welcomed for dancing; it is not classical music.
Accordion: beats per bar: 1+2

Music scores:
Each score consists of 2 pages: page left and page right. They are given on separate pages with links on the top of this page (use Ctrl Home to go to the top). The links are repeated here:
(c1, c2), (a1, a2), (b1, b2), (e1, e2), (f1, f2), (bass1, bass2)
When you click a link the music note sheet will (should) open as a new page on top of this main page, so that you can easily return to this main page. And you can easily open 2 windows of note pages to have both the left and right page in smaller windows, the right below the left.

(Help coming back from that note sheet: CLICK note sheet to come back to this page, or just close note window.
Remember: the note sheet opens in a new separate window, and that may cover the whole screen. The back button in the tools bar does probably not work because the window is new, with no history. All you see on the page are notes because I have placed no link back here for not disturbing easy submitting to the printer. Close the note window with a click at the top or with Alt F4, or minimize or reduce the window, or ..., and you are back to the main page that was there behind all the time).

Footnote:
(Added march 15, 1999)
Skandia Seattle has a description of Trommelvalsen (Roller Waltz) so you may see it systematically explained there. Skandia has named the dance "Drumming Waltz". A very fine name. Perfect OK with me. The dances are for joy, and the names should be joyful, more than translated directly. Danish "tromme" = "drum". But Jutland language dialect "trommel" = Copenhagen Danish "tromle" = English "roller". So that is the hand roller or the horse drawn roller machine the farmer uses to roll his fields in the spring after the grain (American) = corn (British) or seed has been sown, to compact the top soil for the birds and the wind, and to keep the moisture, and to press the small stones down so they do not damage the scythe when reaping at harvest time. (You do not want stones in a combine either).
The roller is clearly heard in the old music when played by an excellent folk musician fiddler. That is with two and two quavers' slurs in the first section with running (first phrase) and with staccato waltz in the last section. (This is not written in my note sheets). This is demanding to do well, (as the opposite might seem more obvious). The staccato on the fiddle must be waltz, think maybe on how you would play that effect on the piano. And the slurs must be marked for running steps, by your turning of the bow, (and still beat 1 is the most marked). The slur phrase is when you hear the roller on the field at some distance, and the staccato when you get closer and hear the small stones and crushing of lumps of earth, with the roller "dancing" over the stones and lumps.

Bottom of this page.